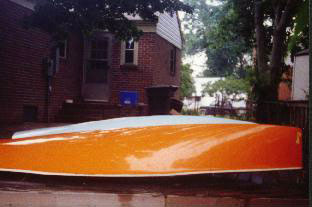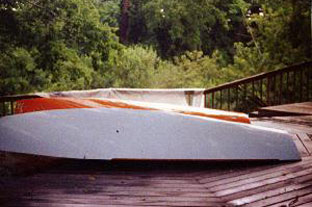 The mistral (blue) and skol (orange) hulls compared. The skol has less rocker and a flatter cross section.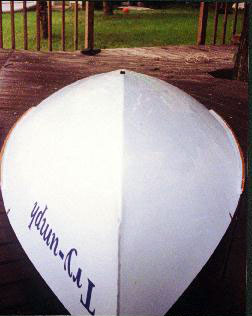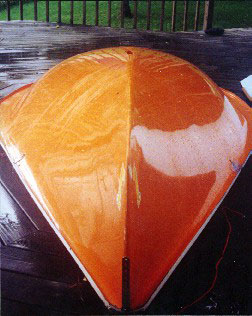 The skol hull before the project started. The vestigial wings were removed to meet the CMBA max concavity of 1" aft of the well.
Stuff I Had to Get
Plywood for bulkheads, decks and tank panels: 3-mm okume marine plywood. Available from Harbor Sales in Baltimore, Yukon Lumber in Norfolk, and Berlin G. Myers in Summerville SC. Price approximately $30 per sheet. Four sheets required.
Resin - Hardener - ect: Gudgeon Brothers WEST resin and hardener was used with a couple of fillers: colloidal silica and microballoons. I used two gallons of resin and two quarts of hardener (I used the fast hardener). Also from WEST I used the metering pumps, two large containers of low density fairing/filling compound (the micro balloons) and one large container of thickener (the colloidal silica), and about three dozen throw-away "acid " brushes for mixing resin. Also needed is about 50 feet or 2" wide fiberglass tape to tie the bulkheads to the hull. To mix the resin in I used the bottom half of 1 gallon milk containers. Latex gloves kept the mess manageable; I found a box of 100 at a discount warehouse.
Sanding the deck surface was done with a 5" Dewalt dual action sander. The hook and loop discs have eight hole in the surface which allow the dust to be sucked up. Hooking a shop vac to the sander discharge allows the shop to keep relatively dust free (although working outside is even better!).
The staples were fired from a regular Stanley staple gun. I think I used 3/8" long staples.
Most of the timber was western red cedar I got from a local Home Depot. They sell individual 8' x 4" x 3/4" fence pickets for about $3 apiece. The tank "ribs" were sawn from 3/4" exterior grade plywood. I used a band saw, a handheld jig saw, an electric drill, about a dozen C-clamps.
As my garage is not heated, heat lamps allow the resin to kick in a reasonable amount of time when working in the winter. Many of the materials react differently at different ranges of temperature and humidity.
Exercise caution when heating the work area as many of the materials are flammable.
Wear protective gloves… to minimize skin contact with these materials to prevent chemical burns and allergic reactions.
Read - Understand - and Follow Explicitly all labels, directions, and cautions.
Wear suitable eye protection.
Properly dispose of any unused or scrap materials.