Classic Moth Boats
Classic Moth Boats are a class of small fast singlehanded racing sailboats that originated in the US in 1929 by Joel Van Sant in Elizabeth City, NC. The Classic Moth is a monohull development class using a modified version of the International Moth rule in effect pre 1969. With an eleven foot over-all length, a maximum beam of 60 inches, a minimum hull weight of 75 pounds, 72 Sq Ft sail area, and very few other restrictions a Classic Moth can be a skiff, pram, scow, skinny tube, dinghy, or any combination thereof. The Classic Moth Boat is an ideal class for amateur designers builders and tinkerers, and can be easily built from inexpensive materials.
If you wake up in the middle of the night with a novel idea for hull shape, you can leap out of bed, race down to your garage, build it and then find out at the next regatta if your idea is hot or not. Freedom of design sets Moths apart from the clorox bottle (one-design) crowd. Instead of the one design controlling who sails successfully, we design and build Classic Moths that fit our size, ability, taste, skills, artistic expression, and pocketbook.
To broaden the appeal to race all types of Classic Moths, we have created three divisons within the class. At major regattas, all Classic Moths race together but are scored in three different divisions; a Gen 2 division for full on narrow waterline, low wetted surface designs, a Gen 1 division for more stable, higher wetted surface designs, and a Vintage division for restored Moths built before 1950.
Presently, Classic Mothboats race in many locations up and down the east coast of the United States. Regattas are currently held in Brigantine, NJ; Portsmouth, VA; Chestertown, MD; Cooper River, PA; Augusta, GA; Norfolk, VA; Elizabeth City, NC; Charleston, SC., and St. Petersburg, FL. Please refer to the regatta schedule on this site for dates and contact information.
Latest News
July Racing in Chestertown, MD
Details
Report courtesy of Rod...
We had 6 Moths on the beach but the other CYCC Mothist whose name escapes me had his Moth fill up when launched so he never crossed the starting line. John Z., Bob P., Victor S., Bill B. and me. Typical Chestertown with added force to the ebb current due to the full moon. Mostly in-the-cockpit racing with weight forward. breeze very spotty around the track. John Z took, I think, 3 firsts with Bob having at least one win. Racing was very close within the fleet over the single triangle course with everybody up there and mixing it around - including the two Lasers. So - typical summer Chestertown but at least the humidity was down enough to be tolerable and enough breeze to keep moving at a clip to overcome the current. Still enjoyable.
John and I were front row witnesses to a single car, multiple roll-over crash on the way back on 213. Luckily the driver was able to crawl out the window of his upside-down car and didn't appear to have major injuries. We left when the ambulance arrived.
Brigantine Regatta Pictures
Details
Great pictures from the 2015 Brigantine Regatta can be found on George's blog at the following link:
http://mid-atlanticmusings.blogspot.com/2015/08/24ht-byc-moth-regatta-photo-collage.html  
Another report from Rod on his blog...
http://www.earwigoagin.blogspot.com/2015/06/header-photo-rigging-on-yard-of.html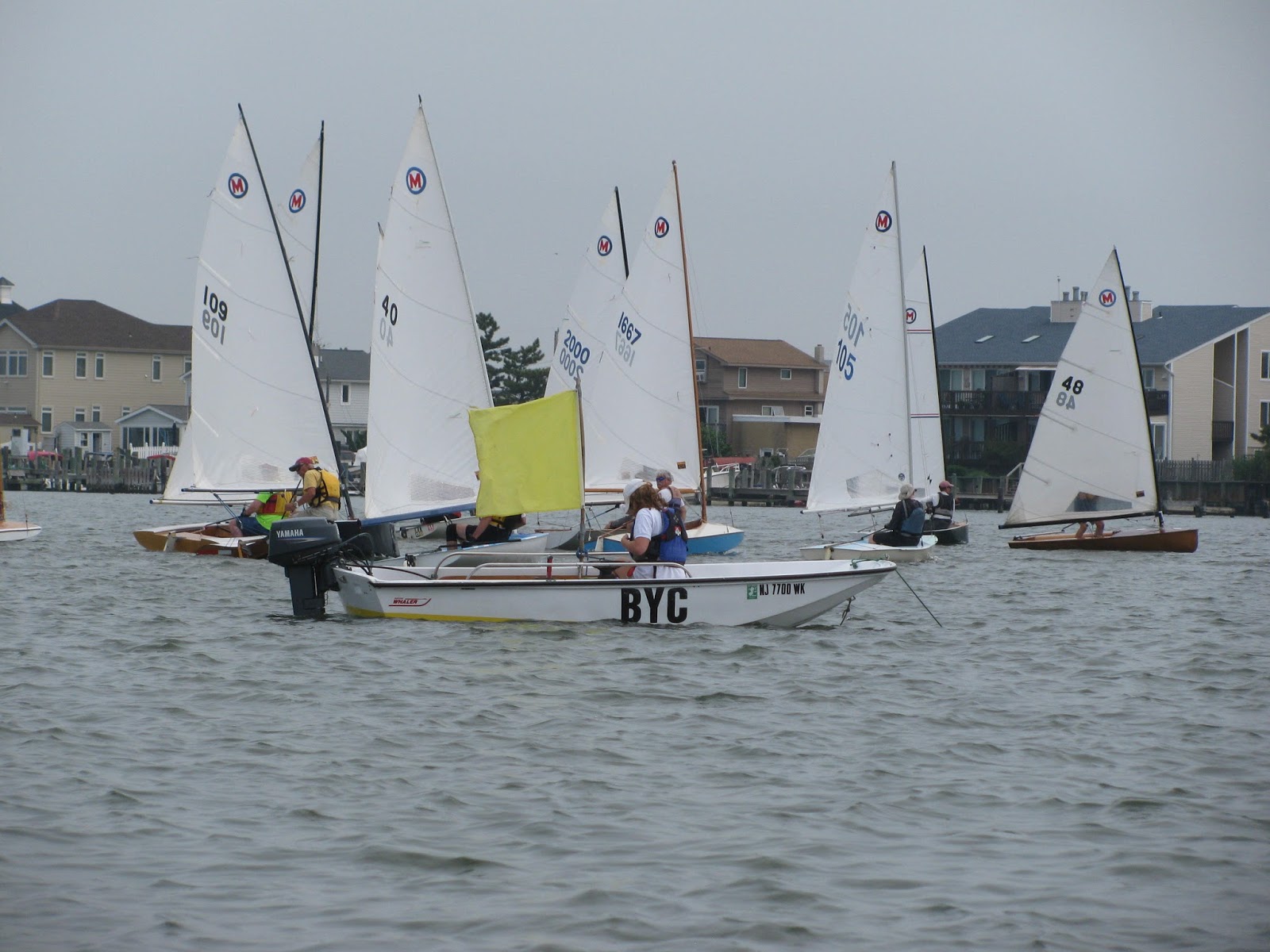 Calling all mothists...
Details
There's been a summer full of moth activity on the Eastern Seaboard!  Help spread the news, photos, highlights and results of our class events to the entire fleet by sharing them on our website. Pictures, results, and articles can be submitted to This email address is being protected from spambots. You need JavaScript enabled to view it. and I'll include them on our news feed.  Results for regattas can be found in the calendar link on the right side of the page (when they are posted!).
2015 Classic Moth Boat Midwinters Championship
Details
The 2015 Midwinters was held February 28 to March 1 in Gulfport, Florida.  Five races were executed on Sunday after races were abandoned on Saturday due to rain.  A total of 10 boats raced in two divisions.  Congratulations to fleet winners, Mark Saunders and George Albaugh.  A special thanks to our host, Gulfport Yacht Club, and regatta chair Amy Linton for organizing the event.
Gen I Results:
| | | | | | | | | | |
| --- | --- | --- | --- | --- | --- | --- | --- | --- | --- |
| Skipper | Sail No. | R1 | R2 | R3 | R4 | R5 | Total | Place | Hull Design |
| Albaugh, G | 69 | 1 | 1 | 2 | 1 | 1 | 6 | 1st | Europe |
| Duncan, G | 125 | 2 | 2 | 1 | 3 | 2 | 10 | 2nd | Europe |
| Hay, L | 4067 | 3 | 3 | 3 | 2 | 3 | 14 | 3rd | Europe |
| Young, R | 132 | 4 | 4 | 4 | 4 | DNF | 21 | 4th | Europe |
Gen II Results:
| | | | | | | | | | |
| --- | --- | --- | --- | --- | --- | --- | --- | --- | --- |
| Skipper | Sail No. | R1 | R2 | R3 | R4 | R5 | Total | Place | Hull Design |
| Saunders, M | 54 | 1 | 1 | 1 | 1 | 1 | 5 | 1st | Mistral |
| Zseleczky, J | 2000 BLK | 2 | 2 | 2 | 2 | 3 | 11 | 2nd | Mistral |
| Parsons, M | 79 | 3 | 4 | 3 | 3 | 2 | 15 | 3rd | Mistral |
| Marschink, F | 2721 | 5 | 3 | 4 | 4 | 4 | 20 | 4th | Skol |
| Price, T | 2000 RED | 4 | 5 | 5 | 5 | 5 | 24 | 5th | Duflos |
| Albaugh, E | 43 | 6 | 6 | 6 | 6 | DNF | 31 | 6th | Reeves |